Host your next meeting at Camp Aldersgate
We offer access to our beautiful campus and its facilities during the week. Nominated as one of the best places in Arkansas to host a team building or company retreat in 2021, Camp Aldersgate has the perfect setting for your next gathering.
We also provide the opportunity for attendees to enjoy some of our favorite camp activities (fishing, canoeing, carousel riding, and archery). All necessary equipment and instruction will be provided by professionally trained camp staff, and all activities are accessible to every participant. Plus, when you rent Camp's facilities, you provide the opportunity of a lifetime for a child with special needs. Thank you for choosing Camp Aldersgate to host your event!
Facilities
Camp Aldersgate houses many beautiful facilities that may be rented by businesses, organizations, or individuals who are looking for the perfect setting for a meeting, retreat, or celebration. Camp has a six-acre lake, wooded trails, cabins, a fully-accessible tree house, a pool, and buildings with spectacular views.
Commons
When planning meetings, retreats or business team-building sessions, consider renting Camp's beautiful 12,000 square foot stone, steel and glass facility, the Commons Building. This building can hold up to 250 guests in the main dining hall. There are also two activity rooms and large porches for outdoor activities.
Cabins
With 7 cabins on the grounds, we offer overnight stays. The cabins are spacious and comfortably equipped with electricity, heat, and air conditioning, with screened-in back porches overlooking the woods. Each fully-accessible cabin has 16 beds, 3 showers, and 3 bathroom stalls.
Interested in reserving our space?
Multiple meeting spaces
Seating for up to 250 guests in Commons Building
Audio-visual equipment
100+ acres & a 6-acre private lake
Lodging for 124 people (Includes Cabins and Healthcare Center)
On-site activities
Open-air pavilion
Playground
Carousel
Indoor Activity Center (Main room capacity: 150)
Swimming pool with beach entry & heated pool
Accessible tree house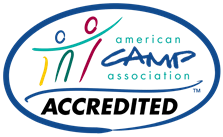 Camp Aldersgate is accredited by the American Camp Association.
Notice of Non-Discrimination – It is the policy of Camp Aldersgate not to discriminate on the basis of race, color, national or ethnic origin, political or religious opinion or affiliation, age, gender or disability in camp-administered activities and programs.