Camp Aldersgate collaborates with a variety of health agencies and service organizations to offer Specialty Camps. These camps provide the opportunity to develop a program tailored to the objectives of the agency, as well as, giving participants the opportunity to experience camp activities.
Past Specialty Camps Include:
Camp Sunshine – a collaboration with Arkansas Children's Hospital Burn Unit and Arkansas Professional Fire Fighters Association to provide a four-day camp for burn survivors.
Camp Runamuck – a collaboration with Arkansas Enterprises for the Developmentally Disabled (AEDD) to offer overnight camps to adults with developmental disabilities.
ARCTDC Resource & Camp Day – a collaboration with Arkansas Center for Respiratory Technology Dependent Children (ACRTDC) to serve families of children who require respiratory assistance.
Camp Laughter – a collaboration with Arkansas Children's Hospital Division of Plastic Surgery to serve children living with craniofacial abnormalities and their family members.
Camp Healing Hearts – a collaboration with Methodist Family Health Kaleidoscope Kids to serve families who are grieving the loss of a loved one.
Camp Conquer – a collaboration with Little Rock School District that provides a safe space for high school students to discuss suicide prevention and awareness.
Camp Stormy – a collaboration with Russellville School District and Arkansas Tech University that provides the dual benefit of 1. allowing fifth grade students to experience an overnight camping trip and 2. giving ATU's Recreation and Parks students a chance to lead outdoor education programming.
Camp 21 – a collaboration with Arkansas Down Syndrome Association that serves participants in a camp environment over the course of several days.
Camp Hope – a collaboration with Camp Hope America and Women and Children's First that serves child survivors of domestic abuse, violence, and trauma with the goal of reviving hope and helping them rise above the cycle of violence.
If your organization would like information about collaborating with Camp Aldersgate to host a specialty camp, please contact our office at 501.225.1444 or by email.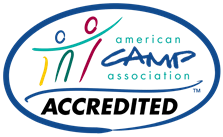 Camp Aldersgate is accredited by the American Camp Association.
Notice of Non-Discrimination – It is the policy of Camp Aldersgate not to discriminate on the basis of race, color, national or ethnic origin, political or religious opinion or affiliation, age, gender or disability in camp-administered activities and programs.