What is Camp Aldersgate?
Camp Aldersgate is a non-profit organization uniquely dedicated to serving children and youth with special needs and medical conditions in a camp environment. We provide camp programming to those who might not be able to experience these activities in a typical camp through activities such as zip lining, canoeing, fishing, swimming, and more. During each camping session, medically trained staff are on site to ensure comfort and health are top priority. We are located on more than 100 acres in Little Rock, minutes away from Arkansas Children's Hospital.
How do I get involved at Camp Aldersgate?
There are various ways to plug-in at Camp:
Become a Camper: Applications available on our website.
Become a Counselor or a Volunteer Counselor: Applications available now.
Organize a Volunteer Group: Adult volunteers and work group volunteers are a tremendous help around Camp's grounds and at our fundraising events.
Donate to our cause: If you are eager to support our mission, please check out our list of ways to give.
Please contact our office with any questions: 501.225.1444
How old do I have to be to attend Camp?
Camp welcomes individuals of varying ages. To qualify for Weekend Camps, a camper must be 6-18 years old. Summer Camps age limits vary depending on the week, and are as follows:
Pediatrics Plus Summer Day Camp – ages 6-18
Muscular Dystrophy Camp – ages 6-18
Spina Bifida Camp – ages 6-16
Kota Camps – ages 6-18
Diabetes Camp – ages 8-13
Cardiac, Arthritis, and Kidney Camp – ages 6-18 (with the exception that campers with arthritis must be between ages 6-17)
Bleeding Disorders and Oncology Camp – ages 6-16
How old do I have to be to become a volunteer counselor or staff counselor?
To become a volunteer counselor, you must be at least 14 years old. To become a staff counselor, you must be at least 18 years old.
All applicants must be able to pass a background check to work with campers.
What activities are available to Summer and Weekend Camp participants?
During each week of Summer Camp, participants are given the opportunity to engage in canoeing, fishing, archery, nature activities, arts and crafts, pool time, a fully accessible zip line, and many more exciting activities.
Weekend Camp participants are able to join in on many of the same activities, though they are generally geared toward smaller groups. Through intentional programming tailored to campers' interests and needs, Weekend Camps keep the fun alive throughout the school year. They may be short, but Weekend Camps are bursting with fun activities!
What do I need to bring to Camp Aldersgate?
While packing for your time at Camp, we ask that you pack plenty of clothes, undergarments, sleepwear and socks for each day. Please consider weather-appropriate clothing. We also ask that you bring the following: tennis shoes or any sturdy shoes for walking and hiking, open-toed shoes for the pool, towels and washcloths, toiletries (soap, shampoo, toothbrush, toothpaste, etc.), one-piece swimsuits (applicable only in warmer months), insect repellent, sunscreen, pillow, sleeping bag and/or twin-sized blankets and sheets, flashlight, prescribed medicine in original bottle with doctor's instructions, and a week supply of all medical supplies currently needed for daily care.
Please do not bring: cell phones, radios, portable DVD/CD players, iPods, iPads/tablets, video game players, TVs or electrical appliances. Hair dryers and electrical shavers are allowed. Please do not bring personal sports equipment. Pets and weapons of any kind, including knives, are not allowed at Camp Aldersgate, unless your pet is a certified therapy or service dog.
How much does it cost to attend a Camp program?
The cost of Camp varies based on the session. Tuition assistance and scholarship opportunities are available for all Camp sessions. In order to provide these opportunities, Camp Aldersgate works to raise more than $350,000 to help cover the vast majority of each camper's cost.
The actual cost for a child to attend a week of summer camp is $1,000 ($800 for a weekend camp). However, due to the generosity of those who give to Camp Aldersgate, no camper will ever pay this full fee. To find out how much a specific camp will cost your family, please contact the Camp Aldersgate office at 501.225.1444.
Can I rent Camp Aldersgate's facilities?
Absolutely! Many individuals and businesses reserve our facilities for meetings and retreats when they are not reserved for our camping programs. Groups have access to indoor and outdoor meeting spaces and overnight facilities. We do not rent our facilities during mid-May to early August. For more information about rentals, including prices and availability, click here or contact Mimi at 501.225.1444.
How can I stay up-to-date with Camp Aldersgate's activities and programs?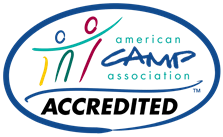 Camp Aldersgate is accredited by the American Camp Association.
Notice of Non-Discrimination – It is the policy of Camp Aldersgate not to discriminate on the basis of race, color, national or ethnic origin, political or religious opinion or affiliation, age, gender or disability in camp-administered activities and programs.